Anterior Approach For Hip Replacement
Dr. Kevin Hanlon was one of the first orthopedic surgeons in the area to perform this revolutionary hip replacement surgery. After special training and the purchase of the Hana table at Mount Clemens Regional Medical Center this will be one of the only hospitals in the Detroit metropolitan area to provide this revolutionary procedure and the first in Macomb County to perform it.

The anterior approach for hip replacement is an outstanding opportunity for patients with hip arthritis. It actually is a return to a procedure describe some time ago by Heuter, with a new twist. New technology has allowed excellent exposure to the hip for the replacement procedure. The muscles of the leg are not violated with this approach and access is facilitated by using this special "Hana" table.
HANA TABLE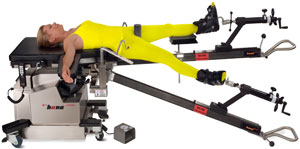 The Hana table allows the surgeon to position a patient's hip and leg in traction for easier access. Using an anterior approach (from the front of the hip) as opposed to the lateral (side), or the posterior (back) approach provides a more direct access to the hip. What makes this approach unique is that the surgeon does not have to cut any of the muscle fibers but, simply parts them, thereby avoiding permanent muscle damage and, providing excellent exposure of the hip joint. This more natural approach is through an inter-nervous plane "not crossing any nerves" and therefore safer.
Play video of Anterior Approach Hip Replacement by clicking on the video below:
Through this approach, the patient's recovery is dramatically improved. Many patients can go home the following day or two and patients have returned to work as early as ten to fourteen days. A typical procedure would require a lengthier hospital stay, more time where the patient is restricted from certain positions, and an extended rehabilitation. After the replacement the stability of the implant is far superior than with other approaches. It is very difficult to dislocate the new joint and, therefore, it is easier for the nurses to care for the patient. For the patient since there is much less pain and they are more mobile they are able to be discharged earlier.
Other advantages attributed to the anterior approach besides muscle-sparing dissection, are; a smaller incision, reduced blood loss, reduced tissue healing required and a more rapid return to normal activities. All these factors lead to less scaring, fewer complications than a traditional hip replacement procedure.