Glucosamine Chondroitin Supplements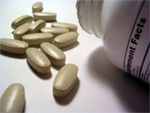 Glucosamine is one of the elements your body uses to build cartilage; in combination with chondroitin they make up a component of cartilage. Your body uses both substances, and are part of the structure of cartilage. These substances are often taken in high doses as over-the counter nutritional supplements, to help arthritis pain and swelling. The book, The Arthritis Cure, by Jason Theodosakis, was published in 1992. Since then the use of glucosamine sulfate (GS) and chondroitin sulfate (CS) for arthritis pain has gained much popularity.
Glucosamine studies have shown that GS can stimulate the synthesis of joint cartilage building blocks, providing some rational for its use in osteoarthritis. Although side effects are rare in some instances heartburn and nausea are reported. Since GS is derived from shellfish shells (chitin), those with allergies should be cautious, although there have been no reports of allergic reactions. Patients with diabetes mellitus should monitor their blood glucose when using GS. GS was shown in animal studies to affect blood-insulin response; but recent human studies do not confirm this relationship.
There is little data on CS and even less data on the combination of GS and CS in the treatment of arthritis. Chondroitin may keep in check and enzyme that breaks down cartilage as well as fight inflammation. CS may cause bleeding in people with bleeding disorders or who take blood-thinning medications. The long-term safety of CS and GS is unclear.
The FDA does not consider GS or CS to be drugs, so these agents do not currently undergo the same scrupulous standards for production, purity, testing and labeling. Because supplements are unregulated, consumers may not get the amount listed on the labels. Supplement cost is not defrayed by medical insurance because it is not considered a drug. No dose response studies have been published to date, so the optimal dose of these supplements for the management of OA is not known. Many companies recommend 500mg of GS and 400 mg of CS three times each day. Many patients have a satisfactory response to 1000 mg of GS and 800 mg of CS in the AM and 500 mg of GS and 400 mg of CS in the PM. It is not known how long this dosage should be continued for.
Improvement in symptoms may not be seen for at least two months. Other treatment methods should be sought if no results are seen in a reasonable amount of time.
Note that two other supplements may possibly help ease the symptoms of osteoarthritis, although evidence is quite preliminary. A few human studies suggested that a compound called SAM-e might help relieve the pain and inflammation. And two observational studies suggest that vitamin D (which is needed for healthy cartilage and bone) may slow the progression of osteoarthritis.
The Arthritis Foundation, the leading non-profit information and advocacy group for people with arthritis, issued a statement calling GS "an appropriate treatment" for osteoarthritis. Consumer Reports looked at supplements for arthritis and concluded that because no one knows which formulation works best, it makes sense to try one of the least expensive combination products.